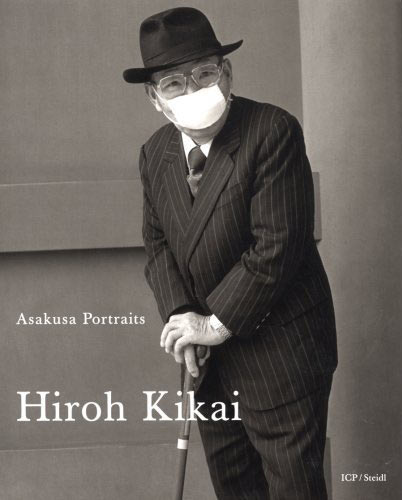 While there were many great books published this year, finding the one that I enjoyed the most was surprisingly easy this year. Despite the high quality of many books I saw in 2008, Hiroh Kikai's
Asakusa Portraits
has had me coming back to it, ever since I managed to get my own copy (just as an aside, this will hopefully also silence those who claim that I don't like b/w photography).
Asakusa Portraits
easily fulfills all criteria of a great book: Fantastic photography, a great interview with the photographers, and an extremely wonderful text written by the photographer.
In addition to Asakusa Portraits
my "best of 2008" list also contains the following books, which I'm going to list in alphabetical order (using the photographer's last name):
Olaf Otto Becker's Broken Line
is a book of vast, immensely beautiful landscapes taken in Greenland, a land about to change drastically as the planet is heating up.
Jonas Bendiksen's The Places We Live
shows the "apartments" of inhabitants of slums - a single room, with the fold-out pages showing each wall. The photos come along with the voices of the people living in those places (in the form of text).
Mathieu Bernard-Reymond's TV
transcends "pure" photography through its use of additional digital processing. While this is sure to have purists scoff, it shows very well how digital technologies can be used creatively in contemporary photography.
Peter Bialobrzeski's Lost In Transition
, shot in Peter's signature style - another commentary on how things are starting to look the same, regardless of where you are on this planet.
Joakim Eskildsen and Cia Rinne's The Roma Journeys
is a vast and almost overwhelming portrayal of the life of the Roma in different countries. It even includes a CD with "field recordings" of music.
Rob Hornstra's (self-published) 101 Billionaires is a survey of Russia, according to The Economist a recovering world power and a corrupt oligopoly at the same time.
Chen Jiagang's Third Front
shows the changing China, using the eyes of a Chinese photographer. A very welcome addition to the often somewhat superficial Westerners' gaze.
Mikhael Subotzky's Beaufort West
portrays life in a small town in South Africa. The photography is stunning, in more than just one way. Both Mikhael's and Jonas' work show what contemporary photojournalism can achieve (if it's not frozen in conventions).